What I Wore:
Dress: Jason Wu Target - $40
Belt: eBay - $2
Shoes: JCP - $28
Cardigan: Old Navy - $12
Necklace: Forever21 - $25
Earrings: Target - $4
I mentioned in my
January budget post
that I had a hard time determining what defined "special occasion exception" in my no shopping exception. I think I finally decided that I would wear something already in my closet to the bridal and lingerie showers (and any bachelorette party action), but I'd try to find a dress that I could wear to graduation and the weddings.
I haven't worn this Jason Wu dress in a while, but I'm still sold on how flattering, girly, and comfortable it is for wedding showers and semi-formal get-togethers. I feel relieved that I was able to compromise and wear something in my closet -- even down to the accessories! Also...it's a perfect opportunity for me to link up with Kimmie's "This Old Thing" show and tell, so all of you can be proud that I didn't try to over-justify or stretch the term "special occasion" to break the no-shopping goal. I do, however, have your permission to buy a fedora...so that's happening.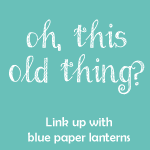 XO,