Happy Thursday to everyone!
Today's Outfit:
Oopsies, I cut off my head today. There's always something off about my pictures.
always.
Aaaaaaaaand I'm in cheerleader stance.
Ready? OKAY!
What I'm Wearing:
Sleeveless white button down: NY&Co - $3.99 + 15% discount (heck yeah!)
Pink Cardigan: Target (where else?) - $5
Skirt: LOFT - $12.99
Shoes: FREE from a giveaway!
Necklace: Target - $7
Pearl Earrings: Gift
Belt: Target - $13
Total Outfit Cost: $41ish
I think $41 is pretty darn good for the amount of items I'm wearing, right?
A little secret/tip of mine: when wearing cardigans or sweaters over button downs, I opt for sleeveless ones so I'm not constantly pulling one layer apart from the other. There's some
hardcore
suctioning power that button downs have. I don't wear the sleeveless button downs without a sweater/cardigan, though. It just seems to 90s to me. Some people can pull it off. I can't.
Awkward & Awesome Time!
Awkward First:
Asking a class a question and then getting this face in response:
Gee, thanks for participating.
Making a joke in class. And getting this face in response: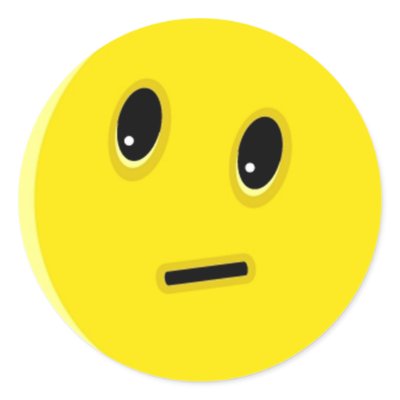 I think my 5th period class doesn't have a sense of humor.
That must be it, right?
Giving instructions in class and having to reprimand a student for doing this:
Amused by your own tongue? Did 'ya just discover it?
The kid who did laugh at my joke.
Just a chuckle would've sufficed.
I had to utilize the restroom multiple times today as a result of my uber penchant for tea. There's a classroom right across from the faculty rest room. This year, the new teacher arranged her desk so she can see out of the front door window. I'm sure she saw me in and out of that restroom all day. At least ten times. I'm not joking.
My face:
Too many smileys?
Awesome:
This smiley:
For real. It's a ninja-smiley.
Awesome.
All the cool things I have planned for this school year. Have I already said that? Can I say it again?
Husband and I have been watching "Desperate Housewives" almost every night before we go to bed. I'm still on Season One, but I really like the show so far. And it's awesome that husband is super adorable and watches it with me.
I told a co-worker about my blog. And she didn't laugh at me. (I'd put a smiley here, but I think you're good on that)
Our school's network connection got a virus and they had to shut down a lot of the servers and wireless connections. This is awesome because our meeting has slight potential to be canceled this afternoon.
Yay!
XO,
W